Freedom Team Apex Marketing Group
"Where Building Is Helping You Win"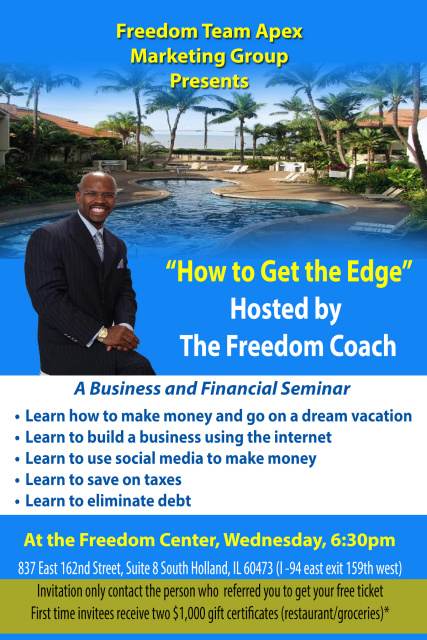 Weekly Business Opportunity Meeting,
Tuesday 6:30pm, Freedom Center 837 E. 162nd, Suite 8,
South Holland, IL 60473 or Thursday or to be arranged (TBA)
Weekly Power Training
Saturday 11:00am- 12:30pm, Freedom Center 837 E. 162nd, Suite 7-8,
South Holland, IL 60473 or to be arranged (TBA), 12:30pm - 1:00pm Power Phone Training
Freedom Strategy Session 3rd Thursday Weekly In Home 6:30pm -7:30pm, 7-10 Guest , Jan 18, Feb 15, March 15, April 19, May 17, June 21, July 19, Aug 16, Sept 20, Oct 18th, Nov 15, Dec 20 Location (TBA)
Super Saturday Business Bootcamp Training , 2nd Saturday of the month with theme, Registration 9am Event 10am - 3pm , Jan 13, Feb 10, Mar 10, Apr 14, May 12, June 9, July 14, Aug 11, Sept 8, Oct 13, Nov 10, Dec 8 Location (TBA)
Freedom Success Seminar 4th Saturday or Sunday of the Month, Strategic Alliances and Partnership with other Professionals Location (TBA)
Fast Start School 3rd weekend of the month, February 16-17, May 18-19, August 17-18, November 16-17(TBA)
Regional Meeting Event 3rd weekend of month alternate of fast start school, March 16-18, June 15-17, Location or resort (TBA), Illinois, Indiana, Wisconsin, Ohio, and Michigan
National Company Convention (TBA)
M.E.N.U.P- (Male Entrepreneur Network Uplifting Program)All Male Business and Investment Group, Meet once a quarter and monthly conference call, Location (TBA)
(To Be Arranged-TBA)
Best Selling Business and Financial Book Buy Now!!!
This 2-book set has been recommended based on some outstanding solutions and answers below
THE NINE PRINCIPLES OF SUCCESS ARE AS FOLLOWS:
1. HAVE DESIRE
2. FOCUS
3. HAVE A STRATEGY
4. BE CONSISTENT
5. HAVE A MENTOR TEAM
6. DESTROY LIMITING BELIEFS
7. DO YOUR HOMEWORK
8. TAKE ACTION NOW
9. PAY YOURSELF FIRST
This 2-book set has a $35 Value. Special sale price of $25 and with your order receive a Freedownload manual on How to Increase Your Income and Find a Niche, plus stay on top of the cutting edge techniques and strategies with our Free additional monthly email motivational, business and financial newsletter - ACT NOW!